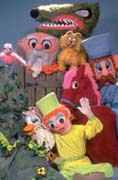 PETER AND THE WOLF (Prokofiev)
Uses life size costume characters, giant rod puppets, and Asian style theatre techniques to bring to life the famous adventure of the little boy who catches a wolf.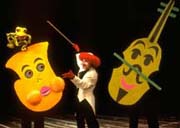 TUBBY THE TUBA (Kleinsinger/Tripp)
Introduces the audience to the instruments of the orchestra, their shapes and sounds, by magically bringing them to life through the use of ultraviolet "blacklight" and glowing fluorescent colors.



Please note that Tubby the Tuba is available in two sizes: full-stage version for large concert halls, and also a puppet stage version for smaller houses.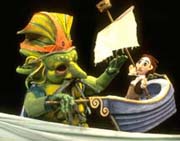 PEER GYNT AND THE TROLLS (Grieg)
Utilizes actors, costume characters, masks, and large puppets to tell story of a young Norwegian boy's search for true love.